What is PUR Adhesive?
PUR adhesive, also called Polyurethane Reactive (PUR) Hot Melt Glues, is 100% solid content, isocyanate (NCO) capped adhesive. PUR will contact the moisture in the air, and allow it to form stronger bonds after the curing process is completed. PUR has a highly flexible and strong adhesion, and suitable for a wide range of climates. With that extraordinary feature, PUR adhesive has become standard adhesive for hard-to-find materials.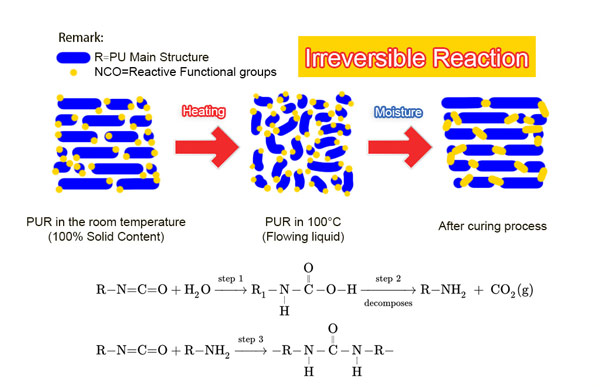 An Environment-Friendly Adhesive
As the solvent-free adhesive, PUR will not volatilize and emissions any solvent during the whole compound process. Therefore, the long drying tunnel is unnecessary when using PUR. It is truly environment-friendly, and non-toxic adhesive.
With the awareness of environmental protection, many governments improve the regulations of environmental inspection. Since 2010, solvent-free laminating technology in Europe and the American market has occupied an important place; also the demand for PUR is also increasing every year.
Easy to Transport
Comparing with another solvent adhesive, PUR has no explosion, fire, or other safety concerns. Instead of dangerous goods, it can be transported as general cargo. This means that the clients can place the order in a small amount with Container Freight Station(CFS).
High Production Efficiency
The speed for Solvent-free composite machine production is ranged from 20 ~ 30M/min or faster up to 30~40M/min, in which the efficiency is double than dryer composite machine. When it comes to laminate the substrate in the same square, the consumption of PUR is lower than the solvent adhesive.
Application of PUR Adhesive
The applications of PUR include Medical Products, Military Supplies, Various Films Lamination, Outdoor Functional Apparel,  Electronic, Car Assembly, Woodworking Lamination, Biomedical Material Adhesive, and Fabric Lamination Adhesive.
Click here for more information on Chemixguru's Fabric Lamination PUR.
Would you like to know more information about the feature of PUR?
Click here to read the related article.
About PUR Laminating Machine
PUR laminating machine is suitable for all kinds of fabrics and films lamination in a roll with PUR adhesive glue.
Dimension: L8600X W2200X H3600mm  /   L9500X W3500X H2400mm
Working Width: 1905mm/2200mm/Customized
Certification: Standard Regulation/ CE Regulation
Operator: 1~2 people
More reference of  Moisture cure polyurethane (PUR Adhesive)