After reading "What is PUR adhesive", you may have a general idea about PUR. In this article, we would like to introduce to you more knowledge about PUR and its laminating PUR machine.
The Operating Process of PUR adhesive
At room temperature, PUR is presented as the solid block. Before starting the laminating process, firstly putting PUR in the oven with 90 ℃~110 ℃ to make it become a flowing liquid which would be easier to process. PUR doesn't need to add any catalyst or hardener during the curing process. Comparing with the two components PU adhesive, it is quite convenient for operating. As the isocyanate (NCO) capped resin, it can chemically react with the moisture in the environment. To be mentioned that the process of curing is an irreversible chemical reaction (On this point it is different from EVA hot melt adhesive, which can be reheated again)
The Advantages of PUR Machine
Compared with the solvent-based laminating machine, the solvent-free machine has the following advantages:
No oven and drying tunnel, save your energy and space
The solvent-based machine will cause a big amount of money on utility fees and lots of energy consumption for the oven and drying tunnel. However, the PUR machine can solve this problem. Without the tunnel, not only can save your money but also reduce the size of the machine, free up more space in the factory.
High production efficiency
PUR machine does not require drying time, so the operating rate can be higher. The average production speed is from 30M/min to 40M/min, which is two times faster than the traditional solvent-based machine.
The higher degree of automation, the lower labor costs
Comparing to the Solvent-based machine, the automated ratio of the PUR machine is higher. Automatic control of the operation speed and temperature is the standard equipment of the PUR machine, which can save manpower and increase yield.
PUR heated to semi-solid before use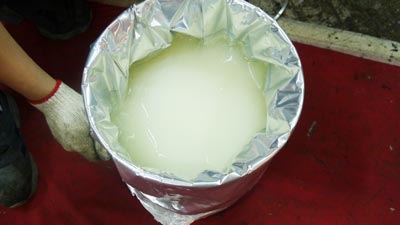 There are tiny holes in the surface of the roller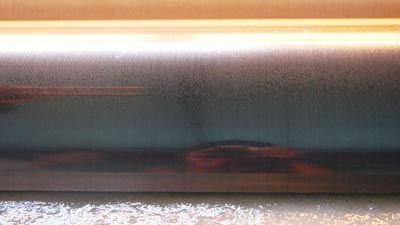 Use a humidifier to increase the reaction speed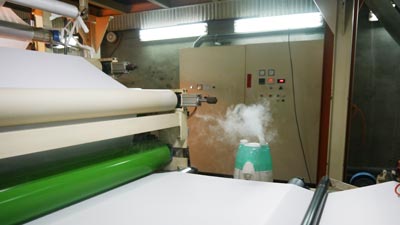 About PUR Laminating Machine
PUR laminating machine is suitable for all kinds of fabrics and films lamination in a roll with PUR adhesive glue.
Dimension: L8600X W2200X H3600mm  /   L9500X W3500X H2400mm
Working Width: 1905mm/2200mm/Customized
Certification: Standard Regulation/ CE Regulation
Operator: 1~2 people
More information about the PUR laminating machine, please contact us
Click below links to find out more about our PUR adhesive:
PUR adhesive VS EVA hot melt adhesive
What is PUR adhesive?
PUR Adhesive for Fabric-to-Fabric or Fabric-to-Film
More reference of  Moisture cure polyurethane (PUR Adhesive)